Support KEPMRI
Kansai Electric Power Medical Research Institute (KEPMRI) serves healthcare-related professionals and researchers to conduct innovative clinical and translational research in order to develop novel strategies for better diagnosis and treatment of diseases and to provide medical education to nurture young healthcare professionals in collaboration with Kansai Electric Power Hospital.
KEPMRI has been approved as a research institution by the Ministry of Education, Culture, Sports, Science and Technology of Japan, on June 24th, 2015. Currently, twelve divisions and two centers are actively promoting innovative and translational sciences to better prevent and treat human diseases.
To financially support this urgent research and educational project, we hope you can make a kind and generous contribution to KEPMRI's current efforts.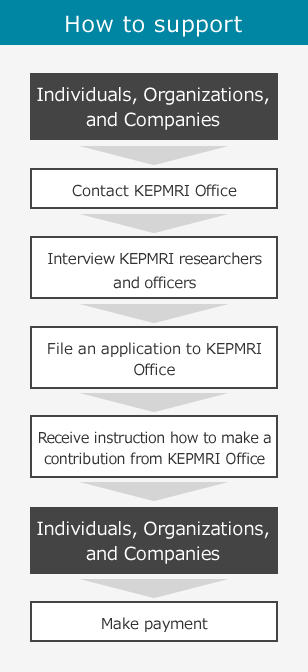 Support KEPMRI
01. Name
KEPMRI Education and Research Fund
02. Purpose
KEPMRI Education and Research Fund will financially support KEPMRI research and education.
03.Plans
KEPMRI Education and Research Fund will be utilized to support research and education in KEPMRI.
04. Payment
After receipt of the "Donation application form", we will send you a payment slip.
Please make your payment along with this slip.
05. Report
If particular reports are needed, please notify date and forms prior to payment.
06. Inquiry
Center for General Affairs, Kansai Electric Power Medical Research Institute
Tel.: +81-6-6458-5821 (Ext. 4103)   Fax: +81-6-6458-6994